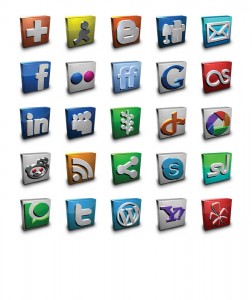 Introducing vSocial! Download vSocial – 3D Social Media Icons the all in one social icon set for making your website. These 3D icons a great for the glassy web 3.0 look, mobile apps, blogs, and any other website. All icons were created and lit using 3D graphics software Cinema4D with the final touches placed with Photoshop.
The vSocial icon set includes free social media icons for AddThis, AOL, Blogger, Digg, Email, Facebook, Flickr, FriendFeed, Google, LastFM, LinkedIn, MySpace, Newsvine, OpenID, Picasa, Reddit, RSS, ShareThis, Skype, StubleUpon, Technocrati, Twitter, WordPress, Yahoo, and Yelp.
These social icons come in all sizes to suit the needs of your specific web site design: 16px, 32px, 64px, 128px, 256px, 512px, as well as the original Photoshop file for creating any size you like.
Download the vSocial – 3D Social Media Icons